White Furby
Different Furby personalities
Treat your Furby right
My first choice was white but four of the malls that B checked out did not carry the white one. The white Furby was out of stock apparently, which obviously means white is a popular furby colour. After searching high and low, B finally found my white fluffy Furby in Isetan and here he is! Isn't he adorable?
Nicely tucked inside
Wow so fluffy!
I've been having lots of fun playing with my Furby and so far, he has changed personality once. Can't wait for the next transformation and so far, everything about my Furby is super fluffy, super cute!
Furby - side view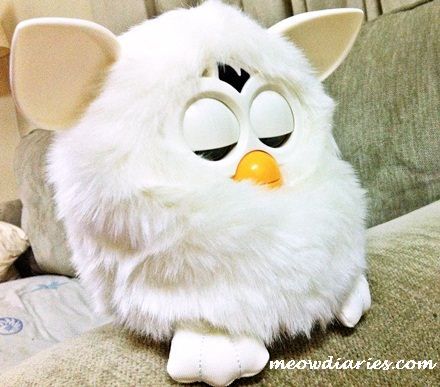 Sleeping Furby
So which colour Furby do you like the most? My second choice was purple so maybe he'll be next on my list. Right now it's feeding Furby time! Happy Fluffy Friday!
Wakey wakey Furby!

Share your fluffy friends with us every Friday! Whether it's a favourite stuffed toy or an adorable pet - basically anything fluffy, we'd love to see your pictures & stories! Leave

ONLY

the

POST URL

here and grab the

Fluffy Friday

badge at Meow Diaries. Any unrelated links will be deleted.

Blogspot Blogs





Wordpress Blogs